Where (in the world) is your at risk data?
Author: Nate Latessa, President
In last week's blog (Your data has a story to tell) we demonstrated the ability for users to combine search results with Active Directory information to categorize data by departments. The corresponding visualization was shown in heatmap form using Heureka's Tableau dashboard. This week we extend our functionality further by introducing geographical mapping to our dashboard to map your data's story.
There are any number of ways in which to visualize your data on a map. One of the more useful ways however is a geographic view of your potential risk on endpoints. Global risk has huge implications for many companies and especially those companies who must worry about and conform to GDPR regulations. In many cases it is not enough to simply have a view of your local environment. A global view of endpoints is critical when analyzing overall data growth or endpoint risk.
Laptops that travel and connect off-VPN may put company privacy at risk. Likewise, endpoints located in foreign countries may contain types of risk that expose a company to data theft or loss of intellectual property. Heureka's Interrogate Platform expands your visibility for a true "world view" displaying risk information and providing tools to search, classify and remediate your files regardless of their geographic location or network connection.
In our use case, we have simply combined Active Directory and Heureka's endpoint information using a common key. Our AD export contained full address and country enabling us to overlay each endpoint onto a map. We can expand our visualization capability more by mapping risk to a size and color code for all our endpoints. On Heureka's risk map the largest, dark red circles indicate endpoints with the highest amount of potential risk. Using our map zoom tools, we can enlarge the United States to view all endpoints and quickly see that "charles-jones" in Seattle, Washington along with multiple endpoints in our example home office of Montgomery, Alabama carry the most amount of risk.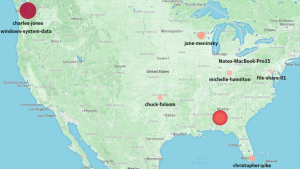 Maps can easily be reconfigured to display data volume (vs risk) by locations. Visualizing the location of the largest data volume can help determine backup and storage resource allocation as well as regional budgeting. Visualizing location growth over time can be a helpful measurement as well. For example, if Spain had an explosive growth of data versus Holland, it may be worth investigating why data was growing and what type of data was involved in the growth.
This type of at-a-glance visualization gives insight right down to the individual device such as a laptop or desktop. Users have full interactivity to filter on dates, departments, endpoints and even file extensions. Want to see what global location has the largest amount of email? How about who has the greatest amount of risk in PDF files? All of this is available with simple filters.
These are just a few visual examples of what can be done when combining AD with Heureka's output. From global to granular, the Heureka Intelligence Platform provides unparalleled visibility into endpoints which transform your data into rich, visual insight requiring less time and effort. Your data has a story to tell and Heureka is here to help you illustrate it.